Hello, this is TORA.
Mmm… I'm totally cravinmg Tonkatsu.
I just have to have a crispy, juicy Tonkatsu.
Do you ever have this feeling?
"This is delicious!" A highly praised, popular Japanese Tonkatsu among foreign visitors.
Beef and chicken are great, but a healthier pork is also amazing.
Here, we will tell you amazing things about Japanese Tonkatsu.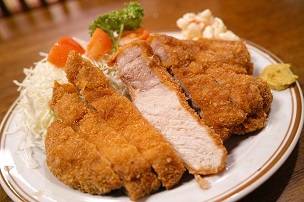 History of Tonkatsu
The name "Tonkatsu," is said to come from a dish called pork "Katsuretsu."
Going back further, that word originated in a French dish called "cotelette," featuring veal, lamb or pork loin with bone, which is called "cutlet" in English.
The word "cotelette" changed to "Katsuretsu," to make it easier for Japanese people to pronounce.
It is said that "pork" in "pork Katsuretsu," a Katsuretsu made with pork, changed to "Ton (a Japanese word for pig)," and the name of the dish eventually became "Tonkatsu."
The year 1895. In Japan, Katsuretsu is said to have originated in "Rengatei," a French restaurant in Ginza, Tokyo. At the time, Katsuretsu was made with beef. This restaurant, changed the meat to pork to make a "pork Katsuretsu." Moreover, the restaurant changed the accompanying bread to rice, based on customer needs, and said to have created the current form of "Tonkatsu," which is pork cutlet served with a side of julienned cabbage and rice.
When deciding whether Tonkatsu is a Japanese or Western dish, it is considered a Japanese dish at restaurants with a stronger Japanese flair, and could be considered as a Western dish at restaurants with a stronger Western flair.
Great things about Japanese Tonkatsu
The best thing about Tonkatsu is being able to enjoy the pork, a thick piece, though it could vary by the part and quality of the pork, of cooked meat.
The pork used in Tonkatsu is said to have a cholesterol lowering effect, and being cholesterol-friendly is another great thing about Tonkatsu. Some restaurants even offer free refills on cabbage, rice, and/or Miso soup!
Why julienned cabbage is served with Tonkatsu
That's right, you have seen this accompaniment.
As you know, julienned cabbage refreshens your palate and cuts the greasiness of Tonkatsu.
But that's not all.
Julienned cabbage contains Cabagin, which is known to improve your digestion, and helps to prevent heartburn and indigestion after eating Tonkatsu.
Moreover, cabbage contains Vitamin C and dietary fiber.
Vitamin C helps maintain healthy stomach membrane, and dietary fiber suppresses fat absorption.
Most importantly, julienned cabbage complements Tonkatsu very well, and thus makes a perfect accompaniment.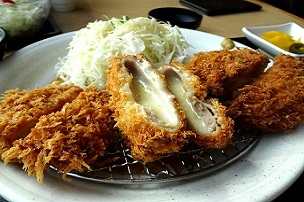 Popular Tonkatsu restaurants in Tokyo
Tonkatsu no Mise Tonchinkan (Nishi-Shinjuku, Shinjuku-ku, Tokyo)
Katsugin (Shinjuku, Shinjuku-ku, Tokyo)
Narikura (Takadanobaba, Shinjuku-ku, Tokyo)
Katsukura Shinjuku-Takashimara store (Sendagaya, Shibuya-ku, Tokyo)
Tontake (Yoyogi, Shibuya-ku, Tokyo)
Tonkatsu Yamaichi (Kanda Suda-sho, Chiyoda-ku, Tokyo)
Maruichi (Kamata, Ota-ku, Tokyo)
Tonkatsu Enraku (Ikegami, Ota-ku, Tokyo)
Aoki (Kamata, Ota-ku, Tokyo)
Maruyama Kippei (Asakusabashi, Taito-ku, Tokyo)
Conclusion
What did you think?
Just thinking about it makes me want to eat Tonkatsu.
It's clear why Tonkatsu is popular among foreigners. It's healthy, has big portion size, and a unique Japanese cooking style that is different from Tenpura.
You are a bit more knowledgeable about Tonkatsu now.
We hope you will have plenty of opportunities to enjoy Tonkatsu in the future.
That's all for today.
Otsukaresama deshita.